From Annuals, Perennials, Shrubs, Trees, Evergreen Trees, Hollies & Roses, Ferns and Ornamental Grasses, New Hope Greenhouse has a wide selection of plants to spruce up your lawn and garden.
Annuals:
Annuals are the mainstay of any garden. They brighten up the garden with instant color and delight us with their beautiful flowers from Spring to early Fall. They are a must-have for their vivid and long-lasting color.
Perennials:
Coming back year after year, perennials provide us with many seasons of beauty and enjoyment.  They provide brilliant blooms for a couple of weeks, to a couple of months during the season.  And when the colors fade, they continue to provide texture and interest to the garden. They are at their best when planted with complementary annuals, shrubs, trees in the garden or containers.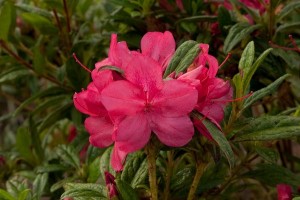 Flowering shrubs, evergreen shrubs or shrubs for landscaping, these are the foundation of any garden.  They help set the theme of our garden such as regal boxwood in a formal garden or old-fashion lilacs and honeysuckles for a Victorian Cottage garden.  Encore Azaleas provide 25 varieties of blooms in the spring, summer, or fall with little maintenance, and vibrant color.
Trees:
Crape Myrtles dazzle us with spectacular bursts of color from summer into fall with flowers of white, pink, red, and lavender.  Fruit trees provide early spring color while Japanese maples and red sugar maples provide marvelous autumn color.
34 YEARS OF GROWING EXPERIENCE